New Release: Simfatic Forms 3.1.4
A new release of Simfatic Forms is available for download. This new release primarily contains bug fixes and improvements.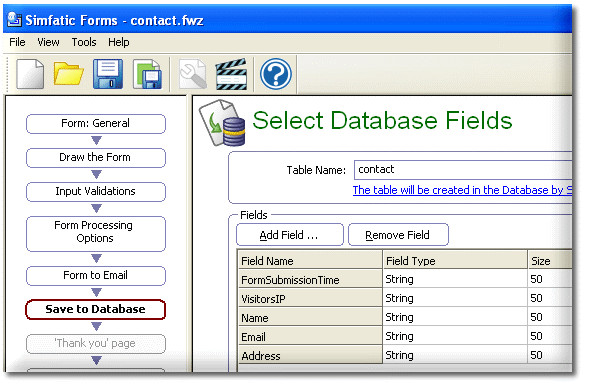 Here is a brief list of improvements in this new update:
Fixed the date validation problem where some dates where accepted in the
client side; but not on the server side
Fixed issues that used to occur with large forms (with many fields)
Some more minor fixes and improvements
Some recent feedback on Simfatic Forms :
"I love this program! Why? It took me hours of coding before I tried the demo version of Simfatic Forms. Now I it takes me no time to make the exact forms I need.
Also, the support is great and fast.
Thanks for saving me hours of work! "


Brian Poedenphant
http://www.experien.dk
"For reasons mainly of security and user-reassurance, I needed a quick replacement for an existing Flash-based form. It had to work over SSL and have file upload, email notification and Captcha (or similar) anti-bot functionality.
I'm not a techie-whiz by any means, but I got the new form completed, debugged, tested and deployed within 3 hours of first coming across Simfatic on a web search. Nothing fancy – just solid functionality as can be seen at the URL below"
Webmaster,
https://wikispooks.com
"I was a little skeptical at first that a form development tool would be robust enough to really help me create forms and integrate them into the dynamic websites I build.

I quickly discovered that Simfatic Forms really is Simply Fantastic, as they say in their logo. It took me almost a half day to do my first form while I learned the tool, and during that time had to send a couple of questions in that they quickly answered. Now that I have created several form templates, the tasks of developing a form, validation, and processing that used to take me hours is finished in a fraction of the time, and the forms look great.

I just wish that I had this tool sooner! "

Terrye Hoffman ,
Prairie Skies Technical Services, LLC
"Powerful feedback forms and easy to build. Step by step instructions. Suitable for someone like me with small knowledge in website building. Very quick response from Simfatic Solutions support team. "


Christopher Finland
http://www.pitopalvelu-vassallo.com/
Thanks for the encouraging feedback guys!